Complete Guide to the Seven Best Yoga and Pilates Studios in Canggu!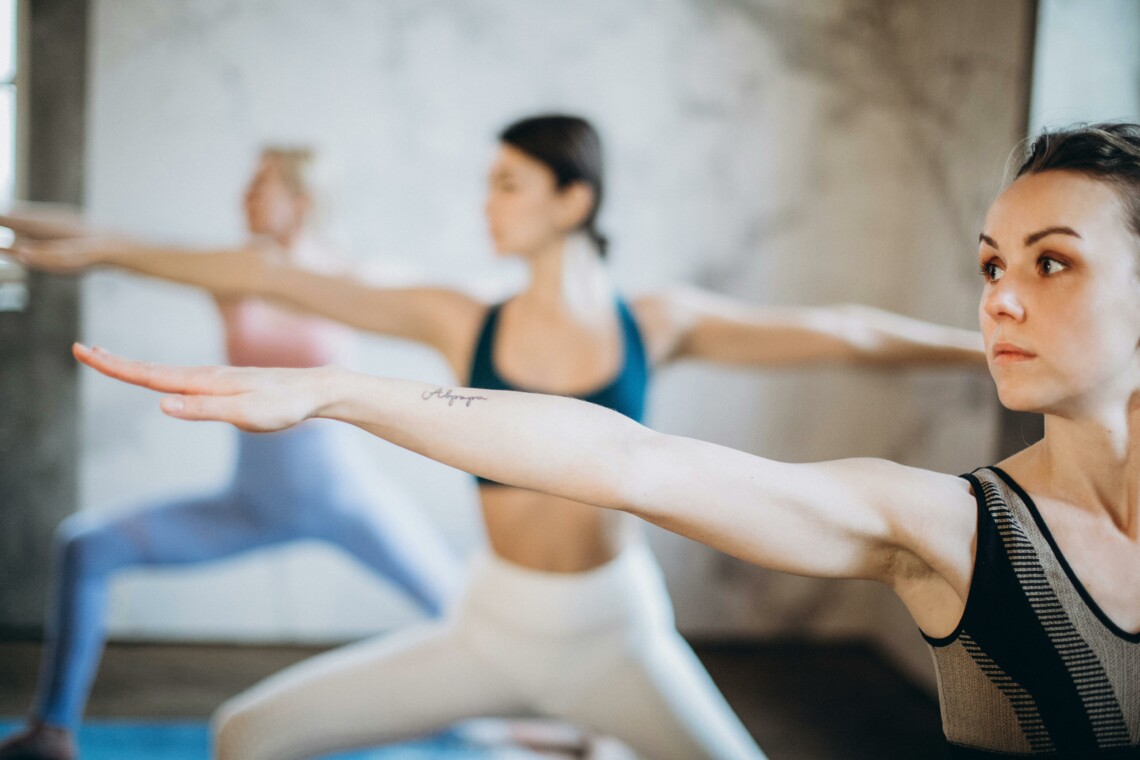 Illustration of Yoga, photo by Elina Fairytale on Pexels
Nestled on Bali's captivating coastline, Canggu has developed into one of the world's most vibrant yoga hubs, drawing practitioners from all over the globe. This calm locations provide the perfect atmosphere for strengthening your yoga practice and taking care of your mind, body, and soul, with the backdrop of a tropical paradise.
We'll look at the seven best yoga and pilates studios in Canggu, where traditional practices coexist peacefully with contemporary elements to create a unique experience!
1. Samadi Bali
Samadi Bali, photo by The Bali Bible
Nestled amidst the lush landscapes of Canggu, Samadi Bali stands as a beacon of tranquility and holistic wellness. This renowned yoga and Pilates studio, one of the gems in our exploration of Canggu's wellness scene, offers a unique blend of traditional practices and contemporary approaches. 
As you step into Samadi Bali, you're welcomed by a serene ambiance that instantly transports you from the hustle and bustle of everyday life. The studio boasts expert instructors who guide practitioners through a diverse range of classes, catering to all levels of experience.
The Samadi team, who teach Ashtanga every day, characterizes yoga as "learning to dance with the universe." They are committed to promoting healing and rejuvenation in a verdant and motivating setting. After you stretch, visit their delicious Samadi Kitchen lab to enjoy some healthy, healing food and a refreshing coconut.
Samadi Bali, Jl Padang Linjong No. 39, Echo Beach, Canggu,
Contact: +62 8123 831 2505, Email: contact@samadibali.com. Open daily from 7am.
2. The Practice
The Practice, photo by Inspiral Architect
This yoga and Pilates studio, a five-star in Canggu's wellness tapestry, seamlessly blends ancient traditions with contemporary practices, offering a space where physical, mental, and spiritual well-being converge.
As you enter The Practice, the energy of the space immediately captivates. The studio's architecture is a testament to its commitment to sustainability, with open-air spaces that allow the gentle Balinese breeze to mingle with the soothing sounds of nature. The Practice is not just a yoga and Pilates studio; it's a sanctuary where the modern world takes a back seat, and individuals can connect with themselves and the surrounding environment.
Under the direction of experienced instructors, you will explore the art of traditional practice through daily asana and meditation, master classes, workshops, a monthly women's circle, and teacher training programs for novices and experts alike. For your convenience, they even offer a virtual online studio that allows you to stay in touch from anywhere in the world!
The Practice, Jl Batu Bolong No. 94A, Canggu,
Contact: +62 361 300 3446 / +62 812 3670 2160, Email: reception@thepracticebali.com. Open Mon – Sat from 7.30am.
3. Pranava Yoga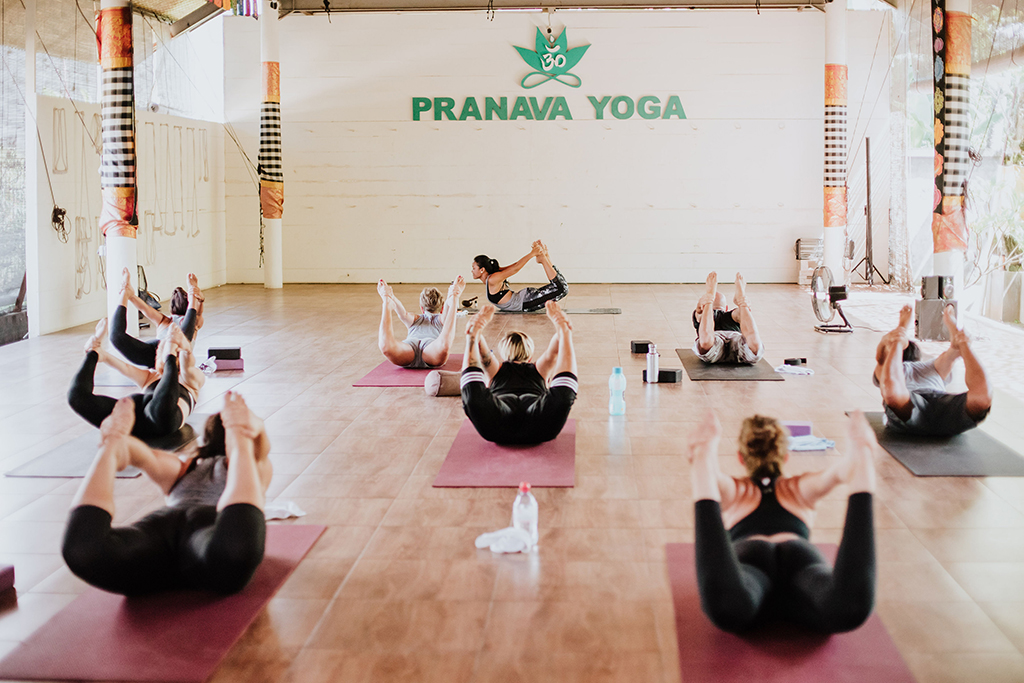 Pranava Yoga, photo by Matra Bali
Pranava Yoga emerges as a serene oasis dedicated to the art of self-discovery and holistic well-being. This distinguished yoga and Pilates studio, offers a haven for practitioners to immerse themselves in mindful movement and soulful connection. The studio's design, characterized by open spaces and natural light, sets the stage for a rejuvenating experience.
The class offerings at Pranava Yoga cater to a spectrum of preferences and skill levels. Whether you're drawn to the dynamic sequences of Vinyasa, the precision of Hatha yoga, or the core-strengthening principles of Pilates, the diverse schedule ensures a comprehensive approach to well-being. Expert instructors guide practitioners through sessions that emphasize not only physical mastery but also mindfulness and breath awareness.
Pranava Yoga at Matra Bali, Jl Pantai Berawa Br Pelambingan No. 37,
Contact: + 62 361 844 6486 / +62 819 9909 5888. Open daily from 8am (Sun from 9.30am).
4. Radiantly Alive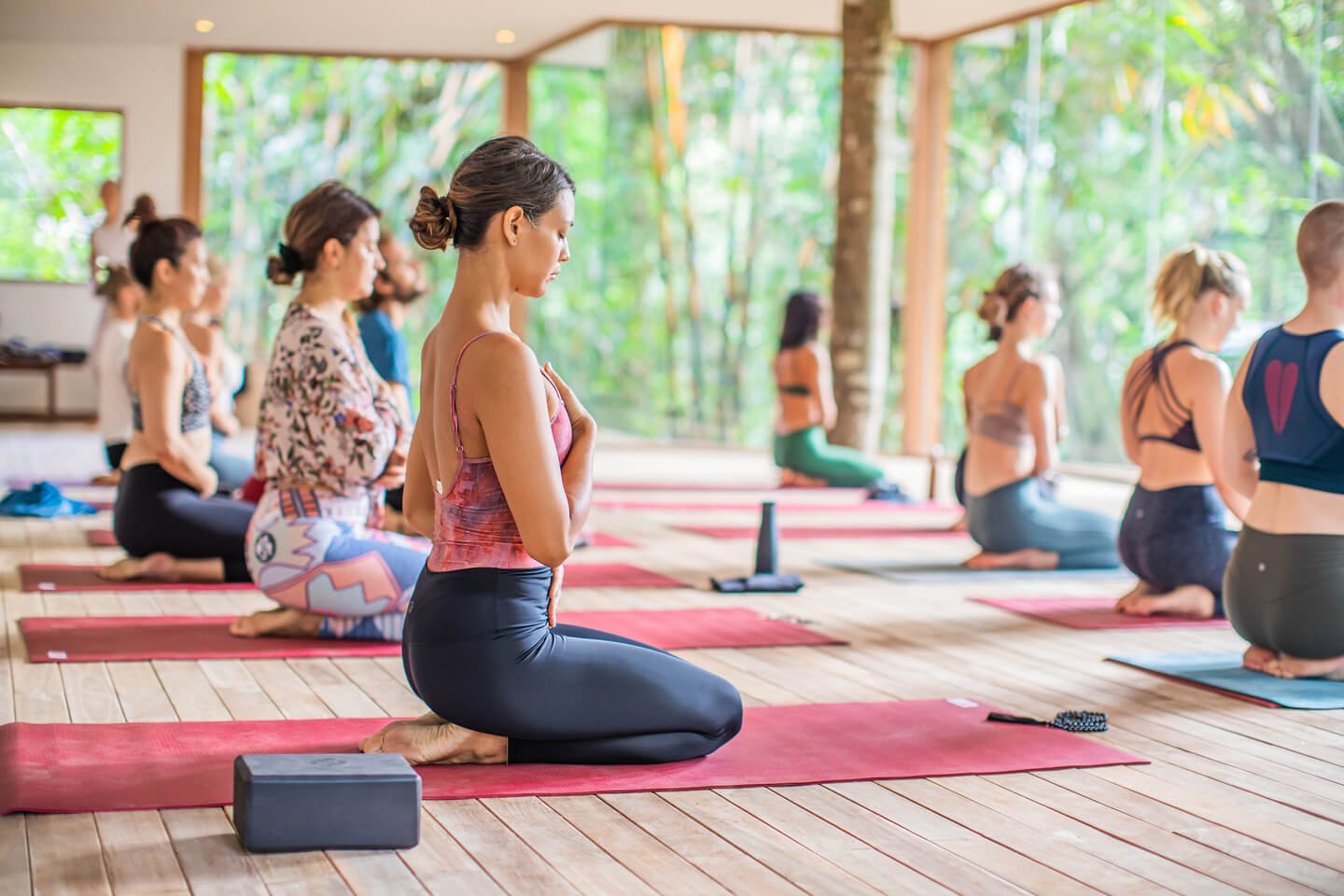 Radiantly Alive, photo by Radiantly Alive
Radiantly Alive is a cozy, friendly yoga studio that perfectly embodies Bali's charm. The yoga and movement classes, workshops, and teacher training programs at this modern institution with roots in ancient traditions and authenticity are all taught by qualified and motivating yoga teachers from around the globe. 
You can take excellent yoga classes in three stunning, purpose-built shalas, featuring a range of styles including Ashtanga, Restorative, Roll & Release, Kundalini, Yin, and Acro Yoga, as well as Radiantly Alive Vinyasa. To radiate from the inside out, they also provide sound healing, mindfulness, and trauma release workshops.
Radiantly Alive, Jl Jembawan No. 3, Ubud,
Contact: +62 361 978 055. Open daily from 7am to 6pm
5. Serenity Yoga Canggu
Serenity Yoga Canggu, photo by Serenity Bali
Tucked away on the eco-friendly grounds of Serenity Eco Guesthouse, Serenity Yoga is a hidden tropical haven amidst the bustling city of Canggu. At Serenity, you can choose from over ten different yoga styles, affordable packages, and even special events on breathwork, self-love, and life coaching. 
The yoga schedule offers both variety and affordability. There's something for every kind of yoga practitioner here, from Yin and Tantric to Power and Aerial. Finally, the entire property is chemical-free, vegan, and ideal for a post-stretch meal. It also features an eco-friendly guesthouse, an all-in-one holistic lifestyle retreat with an outdoor pool, a permaculture herbal garden, and the Vegetarian Alkaline Restaurant to cater your hunger.
Serenity Yoga, Jl Nelayan, Canggu,
Contact: +62 361 846 9251 / +62 811 3888 472, Email: info@serenitybali.com. Open daily 7.30am – 7pm.
6. Nataraja Bali Yoga Shala
Nataraja Bali Yoga Shala, photo by The Honeycombers
Nataraja Bali Yoga Shala emerges as a sacred space dedicated to the exploration of yogic traditions and spiritual growth. Located in the cultural hub of Ubud, this distinguished yoga shala offers a transformative experience where the ancient teachings of yoga seamlessly intertwine with the natural beauty of the surrounding environment.
As the name implies, Nataraja Bali Yoga Shala draws inspiration from Shiva's dancing form, Nataraja. It is devoted to distributing and igniting joy and celebrates everything movement and healing related. In addition to the variety of classes offered (including Yin and Hatha yoga, Spine Shakti, and Ashtanga in the Mysore style), the distinctive yoga community gathers here for the Vedic Kitchen, which provides a satisfying post-stretch menu influenced by Indian Ayurvedic cuisine.
Nataraja Bali Yoga Shala, Jl Raya Kedampang No. 67, Kerobokan,
Contact: +62 817 7990 7901, Email: natarajayogabali@gmail.com. Open Mon – Sat.
7. Guan Yin Yoga Shala
Guan Yin Yoga Shala, photo by Bali.com
Guan Yin Yoga Shala, named after the Goddess of Compassion, is a place to go to find calm and take care of your body and mind. Firstly, it's ideally situated within the Hotel Tugu Bali, which is inspired by Indonesia, and is cooled by a refreshing sea breeze while being surrounded by lush gardens. 
The high ceiling, thatched roof, and antique statues—among which is the 120+ year old statue of Guan Yin herself—as well as the Balinese carvings provide the studio with a serene, oasis-like ambiance. Whether you prefer Yin and restorative yoga or Yang-based yoga (Hatha, Vinyasa, or Ashtanga), the trained instructors will assist you in clearing any bothersome energy blockages.
Whether you are a seasoned yogi or a seeker on the path of spiritual exploration, Guan Yin Yoga Shala invites you to enter a sanctuary where the divine wisdom of yoga converges with the compassionate spirit of Bali, creating an enriching journey towards inner peace and spiritual awakening.
Guan Yin Yoga Shala at Hotel Tugu Bali, Jl Pantai Batu Bolong, Canggu,
Contact: +62 813 3702 0904. Open daily from 8am.
Don't miss the chance to elevate your mind, body, and spirit in this vibrant coastal community! 
For seamless bookings and personalized inquiries, entrust your Bali experience to Asia Holiday. Contact us at (+62) 816-342-767 or drop us an email at info@asiaholidayvilla.com. Your path to serenity and well-being awaits—let Asia Holiday be your guide to a rejuvenating escape in the heart of Canggu.