7 Best Cafes in Ubud: Perfect Place to Find Breakfast, Lunch and Coffee!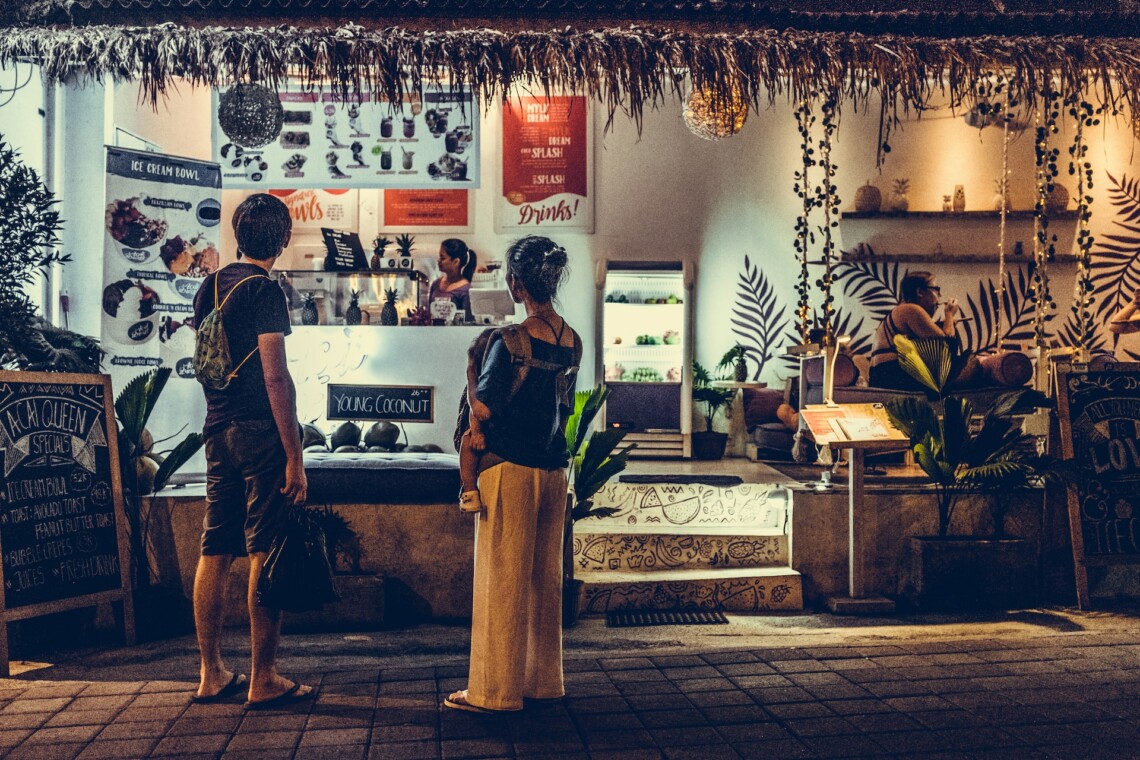 Illustration of Best Cafes in Ubud, photo by Bernard Herman on Unsplash
Ubud has become one of the favourite Bali regions when it comes to escaping from the crowd of the Kuta and Seminyak for the lush jungles, rice terraces, and beautiful views of temples. However, that's not all Ubud is known for. This little town is the perfect place to find the best cafes in Ubud, including various restaurants and coffee shops. Here are our top picks of the 7 best cafes in Ubud for you to find breakfast, lunch, and coffee!
1. Monsieur Spoon
Illustration of Monsieur Spoon, photo by Monsieur Spoon
If you thought life couldn't get much sweeter in Bali, stop by Monsieur Spoon for breakfast or lunch – the island's favorite institution for exquisite bread, pastries, and à la Francaise brunch favorites. Monsieur Spoon is a family-run French Bakery-Café founded in 2012 by two Parisian cousins. 
Their bakery is freshly baked every day, and their French all-butter croissant is one of the best-sellers in Bali. If you're craving something sweet, don't forget to try their oh-so-creamy eclairs and velvety salted caramels! It will leave you wanting more.
2. WYAH Art & Creative Space
Illustration of WYAH Art & Creative Space, photo by ArchDaily
WYAH Art & Creative Space was opened on the 1st of September as a combination of Creative Space and Coffee Shop in Keliki, Ubud. Since then, it has become one of the icons that attracts locals and foreigners who visit Bali. 
Natural views surround WYAH Art & Creative Space, and each building has a 360-degree view orientation with no wall limits or other barriers. This place is built between surrounding trees but still preserves nature for the design process. 
Aside from its beautiful architecture, WYAH is also an iconic space to sip their signature cocktails while eating on their favourite Indonesian nasi campur. You can also grab some snacks such as the most beloved almond croissants and the Korean French Fries.
3. Pison Ubud
Pison Ubud, photo by Avelim
Pison is one of the most talked about and best cafes in Ubud. With a view of rice fields in their backyard and European interiors, Pison is an Asian-Western fusion cafe that comes with fantastic food and superb coffee. The menu at Pison highlights the islands's fresh ingredients and fantastic selections of local coffee beans. 
Don't forget to try their favorite Avocado Espresso paired with snacks like crispy corn fritters and creamy homemade chicken curry with a poached egg on top! Additionally, you'll want to come for lunch and try their top-rated nasi goreng with crispy pork belly to satisfy your appetite.
4. Milk & Madu
Milk & Madu, photo by Milk & Madu
Milk & Madu specialize in the favourite Western-style eats and treats in a minimalist and beachy atmosphere. This best cafes in Ubud offer a bright and open atmosphere, creating a free-flowing environment that captures the essence of the beach. The space is designed to inspire relaxation and an appreciation for life's simple pleasures. With wicker chairs, straw light fixtures, and a soothing neutral color scheme, the restaurant exudes serene tranquillity, inviting guests to unwind and enjoy.
Complement the stunning backdrop with a selection of beloved Western dishes that take you on a culinary journey through Italy, England, America, and Mexico. Begin with the ultimate comfort foods: pizza and pasta. 
Indulge in gourmet lava stone pizzas featuring delectable toppings like Mama's meatballs, cumin lamb, pumpkin, and garlic prawns. For a fusion of flavors, try the Got Beef 'Ese pizza, boasting a Mexican twist with spiced beef, beans, and salsa.
5. Seniman Coffee Studio
Seniman Coffee Studio, photo by Sling Adventures
There is no need to doubt that Bali is an island for artists. The Ubud area, in particular, is also synonymous with spectacular works of art, with many artists in Ubud, ranging from painters to sculptors who are famous in Ubud. If you are an art lover, there is one cafe in Ubud that you must visit, namely Seniman Coffee Studio.
When you visit Seniman Coffee Studio, all your coffee Christmases come at once. This coffee shop is a coffee lover's paradise just off Ubud's main street. There is an on-site micro-roastery, a brew bar, a shop with every piece of coffee equipment you could possibly want, and tasting workshops at the studio on how to home-brew, roast, and make the perfect espresso yourself!
6. Anomali Coffee
Anomali Coffee, photo by The Bali Bible
You won't have to look far if you need the best cafes in Ubud! Anomali Coffee Shop has been one of the reliable choices in town, as this coffee roaster company offers you various coffee beans from all over Indonesia. The interior of Anomali Coffee has a thoughtful industrial look, which is Instagrammable and creates an exciting atmosphere. 
Aside from their coffee list, Anomali also offers you a chocolate drink made from local Indonesian chocolate and plenty of food options as your companion! For example, their Sop Iga or ribs soup was nicely done, and it has a full taste of umami, which is comforting, with a nice kick of spices aroma. The meat itself was tender and fell off the bone easily.
7. Huma Cafe by Goldmine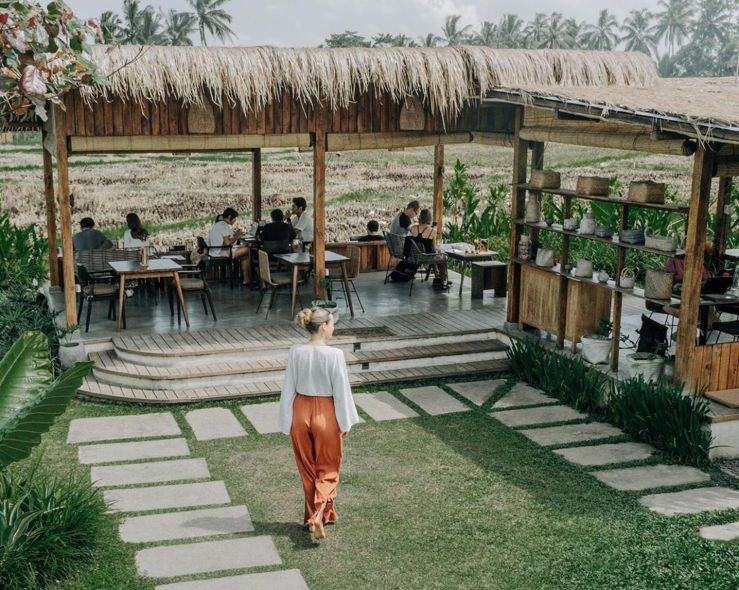 Huma Cafe, photo by What's New Indonesia
Huma Cafe by Goldmine is one of the best cafes in Ubud that you don't want to miss. At Huma Cafe, you will be immersed in nature with emerald landscapes of rice paddies. With an outstanding view, this hidden gem quickly becomes the tourists' favourite for coffee, breakfast, and brunch. 
There are selections of Western fusion dishes on the menu. However, if you're craving for some classic Indonesian foods, you can try their favourite nasi goreng or the all-time-favorite Chicken Butter Rice. To top it all off, don't forget to order their signature coffee, the Taro Coffee!
What are you waiting for? If you plan to visit Bali and enjoy some serenity and peace in Ubud, you can reach out to Asia Holiday for bookings and inquiries at (+62) 816-342-767 or via email at info@asiaholidayvilla.com.