A Complete Guide: 10 Hidden Gems Destinations in Bali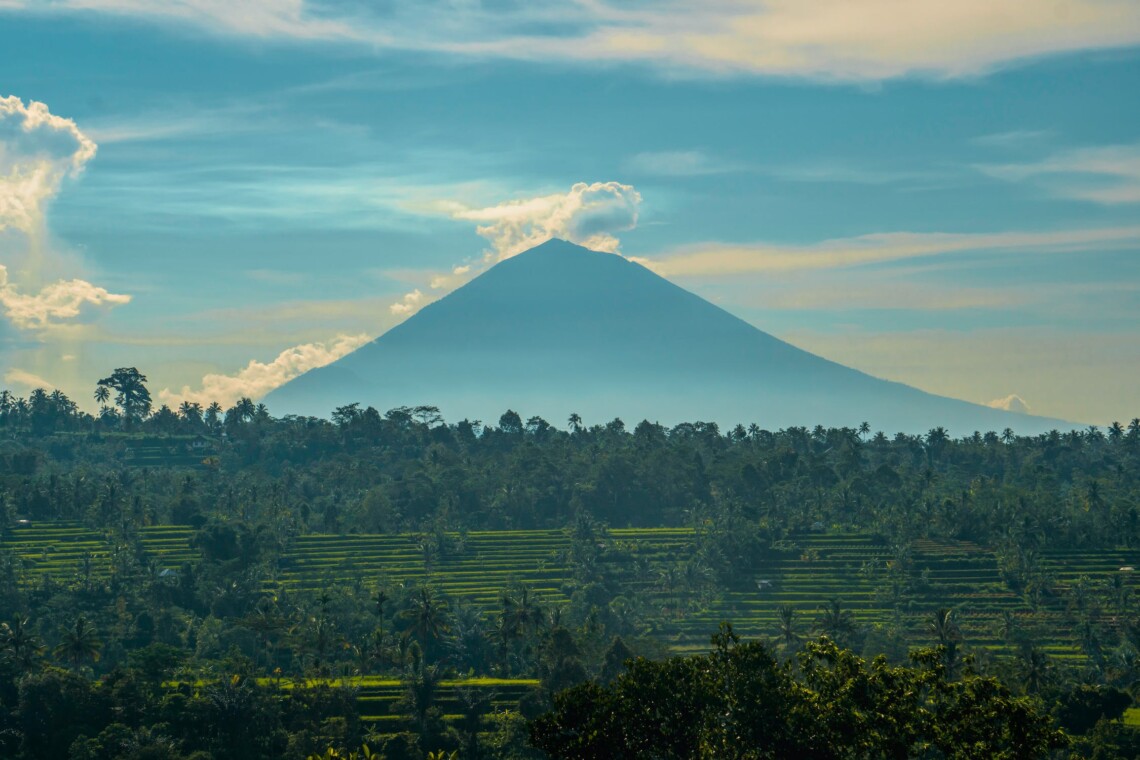 Illustration of Hidden Gems in Bali, photo by Oleksandr P on Pexels
Bali, the famed Indonesian island, has long been a magnet for travelers seeking sun-soaked shores and vibrant cultural experiences. While its popular hotspots have their undeniable charm, there's a world beyond the bustling streets of Ubud and the lively beaches of Seminyak. In 2023, let's delve into the island's best-kept secrets, a collection of hidden gems that promise serenity, authenticity, and a deeper connection to Bali's natural beauty.
From the tranquil village of Sidemen with its lush rice terraces to the awe-inspiring Bhuana Sari Waterfall, we've curated a list of 10 hidden gems in Bali that will redefine your holiday experience. Join us as we uncover the secluded treasures that await those willing to venture off the beaten path!
1. Bukit Cinta Viewpoint
Bukit Cinta Viewpoint, photo by Charlie Pauly
Nestled in the heart of Bali's Tabanan Regency, the Bukit Cinta Viewpoint is a hidden gem that offers a romantic vista of the island's stunning landscape. Located approximately 25 kilometers northwest of Ubud, this enchanting spot is a haven for those seeking a tranquil escape from the bustling tourist hubs.
As you ascend the winding paths leading to Bukit Cinta, it reveals a breathtaking panorama. This viewpoint provides an unobstructed view of verdant rice terraces that cascade down the hillsides, painting a vivid portrait of Bali's agrarian culture. The terraces, adorned with lush shades of green, create a mesmerizing mosaic that captivates the eye. Meanwhile, in the distance, the majestic Mount Agung graces the horizon, lending an ethereal quality to the landscape that is truly unforgettable. 
2. Popular Hidden Gems in Bali: Green Bowl Beach
Green Bowl Beach, photo by The World Travel Guy
Located in the southern Bukit Peninsula of Bali, Green Bowl Beach is a true gem waiting to be discovered. Tucked away from the bustling tourist hubs, this secluded paradise offers a pristine stretch of shoreline and a unique cave experience that sets it apart from the more popular beaches.
Green Bowl is one of the best beaches in Bali situated about 30 kilometers from Denpasar. Accessing Green Bowl Beach requires a bit of effort, but the journey is well worth the reward. The beach is nestled at the base of towering limestone cliffs, and the descent involves navigating a steep flight of stairs.
As you step onto the powdery white sands of Green Bowl Beach, you'll be greeted by the sight of crystal-clear turquoise waters gently lapping at the shore. The beach is aptly named after the vibrant green seaweed that adorns the rocks at low tide, creating a mesmerizing contrast. Additionally, Green Bowl Beach is an excellent place to swim, snorkel, and surf.
3. Sangeh Monkey Forest
Sangeh Monkey Forest, photo by Sergey Chuprin on Unsplash
Sangeh Monkey Forest is a hidden gem that offers a distinct contrast to the bustling tourist spots on the island. Located in the village of Sangeh, approximately 20 kilometers north of Denpasar, this tranquil forest sanctuary provides a unique opportunity to observe Balinese long-tailed monkeys in their natural habitat.
Unlike the more famous Ubud Monkey Forest, which is often teeming with tourists, Sangeh offers a more serene and less crowded alternative. Sangeh Monkey Forest is not only a sanctuary for macaques but also plays a crucial role in conservation efforts. 
The forest is managed by a local cooperative that works tirelessly to protect the habitat and ensure the well-being of its primate residents. Visiting Sangeh provides support for these conservation initiatives and contributes to the preservation of Bali's natural heritage.
4. Hidden Gems in Bali with the Best View: Sidemen Region
Sidemen Region, photo by Niklas Weiss on Unsplash
Undoubtedly, Bali's Sidemen region is one of its most stunning hidden gems. It will take several days to fully appreciate its unspoiled beauty and hospitable locals. Everywhere you look in this area, you'll see verdant valleys, rivers, waterfalls, scenic rice fields, and charming villages.
This is the ideal place, away from busy towns and resorts overrun with tourists, where simplicity, peace, and nature reign. An ideal location for hiking, cycling, and exploring, with plenty of places to eat and stay scattered throughout the region. 
5. Leke Leke Waterfall
Leke Leke Waterfall, photo by Ket Monnyreak on Unsplash
Leke Leke Waterfall is a hidden gem that promises a serene escape from the bustling tourist hubs. Located in the village of Antapan, approximately 30 kilometers north of Ubud, this pristine waterfall offers a tranquil oasis surrounded by lush greenery.
The area around Leke Leke exudes an untouched natural charm. Towering trees form a verdant canopy overhead, casting dappled sunlight onto the moss-covered stones. Ferns, wild orchids, and various tropical plants add to the lushness of the surroundings, creating a rich flora that frames the waterfall.
The trek to Leke Leke Waterfall is an adventure in itself. The well-marked trail takes you through rice fields, small streams, and patches of bamboo forest.
6. Kehen Temple
Kehen Temple, photo by The World Travel Guy
Kehen Temple is one of hidden gems in Bali that's located in the heart of Bali's Bangli Regency, approximately 40 kilometers northeast of Denpasar. Kehen Temple is a scenic drive away from the bustling tourist hubs. The journey to the temple takes you through winding roads, terraced rice fields, and villages, offering a glimpse into Bali's rural beauty.
As you approach Kehen Temple, you'll be greeted by an ornate split gateway, known as a "Candi Bentar," which serves as the entrance to the temple complex. The temple's architecture is a captivating blend of intricate stone carvings, moss-covered structures, and vibrant ceremonial umbrellas that add a splash of color to the surroundings.
One of the most notable features of Kehen Temple is its series of stepped terraces that lead to the inner sanctum. Lined with ancient stone statues and intricate reliefs, these terraces create a sense of spiritual ascent, inviting visitors to engage in a meditative journey.
7. Goa Lawah Temple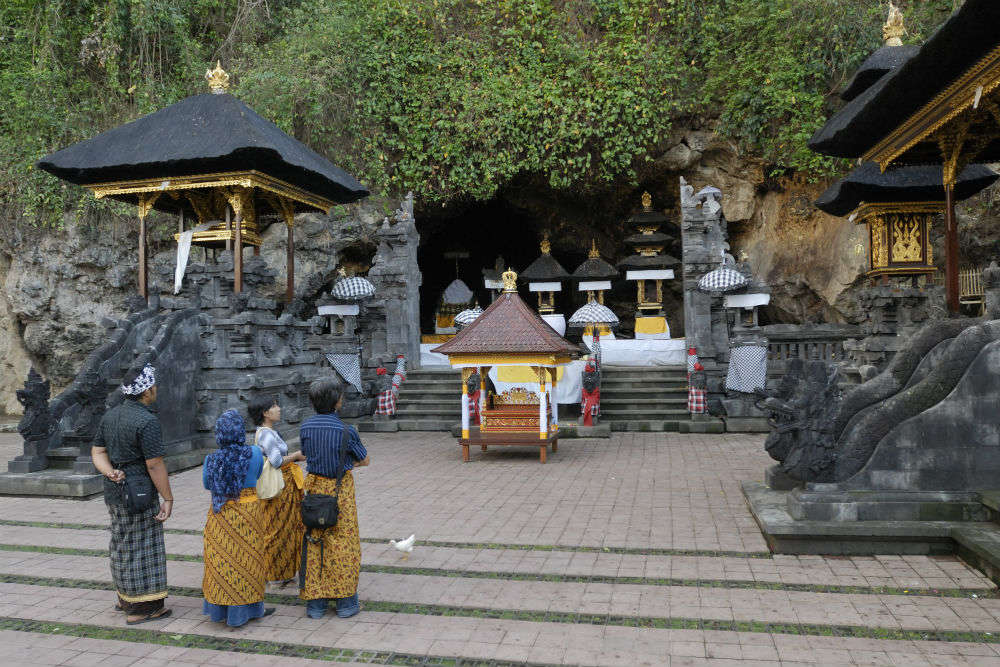 Goa Lawah Temple, photo by The Times of India
Goa Lawah Temple is a place of profound spiritual significance. Situated approximately 50 kilometers east of Denpasar, this ancient Hindu temple is renowned for its unique cave sanctuary and its association with local folklore. 
Perched on the edge of the rugged shoreline, Goa Lawah Temple commands a dramatic view of the Indian Ocean. The temple complex is conveniently located along the main road that runs through the village of Pesinggahan, making it easily accessible for travelers exploring the eastern regions of Bali.
The focal point of Goa Lawah Temple is the natural cave that gives the temple its name. The cave entrance is adorned with intricate stone carvings and a towering "Paduraksa" gate. 
According to local folklore, the cave is said to be the dwelling place of the mythical serpent king, Naga Basuki. Legend has it that Naga Basuki guards the entrance to the underworld and plays a crucial role in Balinese Hindu cosmology. 
8. Brahmavihara-Arama Temple
Brahmavihara-Arama Temple, photo by The Bali Bible
Located on the northern coast of Bali, the Brahmavihara-Arama Temple stands as a testament to the island's religious diversity. Situated in the village of Banjar, approximately 10 kilometers west of Lovina. 
The temple's structures are adorned with intricate carvings and ornate decorations that reflect the skilled craftsmanship of Balinese artisans. From the intricately carved doors to the serene statues of Buddha, every detail exudes a sense of reverence and devotion.
9. Pura Luhur Batukaru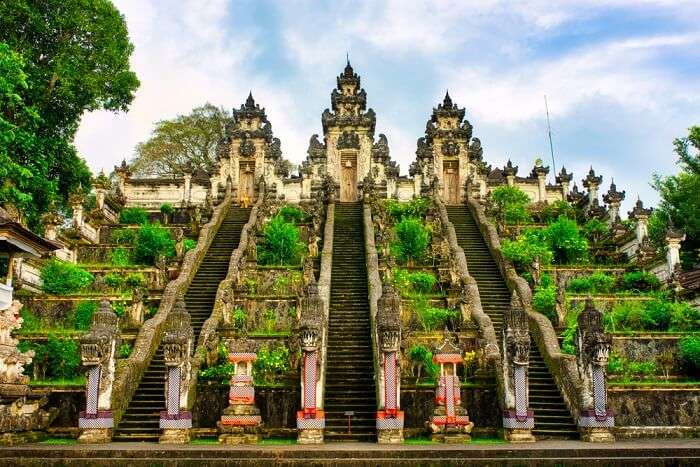 Pura Luhur Batukaru, photo by Travel Triangle
Situated on the slopes of Bali's second-highest peak, Mount Batukaru, Pura Luhur Batukaru is one of the hidden gems in Bali, a revered Hindu temple that stands as a testament to the island's spiritual heritage. Located in the Tabanan Regency, approximately 49 kilometers northwest of Denpasar. 
Although it is believed to have been constructed in the eleventh or seventeenth centuries, Hindu culture regards it as a temple of great spiritual significance. This temple is one of nine that guard Bali and its people from evil spirits.
It offers a magnificent vantage point over the surrounding landscape, build at a height of 1300 meters above sea level and encircled by a thick layer of rain forest. The temple has many multi-tiered shrines, pavilions, courtyards, and old, moss-covered structures in addition to typical Balinese architecture.
10. Best Hidden Gems in Bali for Nature Lovers: Bhuana Sari Waterfall
Bhuana Sari Waterfall, photo by The World Travel Guy
Bhuana Sari Waterfal is our last hidden gems in Bali that's situated in the village of Wanagiri, approximately 60 kilometers north of Denpasar, this lesser-known waterfall offers a refreshing retreat from the more popular tourist destinations.
You can reach the base of the first falls after a 20-minute hike through the forest, passing over bamboo bridges and through rock pools. Signs point you in the direction of the other falls. While some waterfalls drop into tiny pools that are ideal for swimming, others tumble down several levels of rock formations covered in moss and leaves. All of them are stunning and have distinct personalities.